Engage in the Like Bodies, Like Minds story series
During Mental Health Awareness Week (27 September – 3 October), we came across a thought provoking collection of stories that explore body image and mental health called Like Bodies, Like Minds. One in particular caught our attention – the one about musician TJ Zimba's experience of depression as a result of racism at school.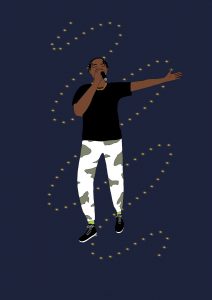 He was interviewed by freelance writer and journalist Angela Barnett and the story was complimented by a beautiful drawing by artist and illustrator, Ruby Jones (*image credit*).
All 7 stories in the series were published on Stuff, and were funded by the Mental Health Foundation of New Zealand's Nōku te Ao: Like Minds Media Grant and the YWCA.
Here's the kaupapa of the project as told by Angela & Ruby:
"In sharing these seven stories, Ruby and I hope to reduce shame around mental health and body image and increase understanding of life inside someone else's skin. The project encourages people to look at one another, and our own bodies, with gentle eyes and zero assumptions, because the question to ask is never "what's wrong with me and my body/skin/size/abilities/orientation", but what's wrong with cultural structures that think there's a wrong or right way to exist in a body."
We encourage you to read all seven of the Like Bodies, Like Minds stories and feast your eyes on Ruby's artwork that accompany each story.
Follow Like Bodies, Like Minds on Instagram, and find all seven stories here.