Community Voices #3: Exploring the Te Tiriti journey
We recently launched a new webinar/discussion series called 'Community Voices' where we team up with special guests for an informal discussion on belonging and inclusion issues relevant to Aotearoa New Zealand communities.
The topics are related to our three focus areas Te Toto Kei Roto (a Treaty that resonates with all of us); Having the Important Conversations (Addressing Discrimination and Racist Practices); and Media as Allies, as well as current events/issues in the public sphere.
Community Voices #3 will be on the topic of 'Exploring the Te Tiriti journey'
When: Thursday 4 November, from 3pm – 4pm
Where: Facebook LIVE (no registration required, just tune in at 3pm)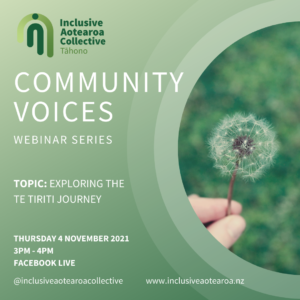 This time we will amplify the voices of people who are actively participating in the Te Tiriti journey, with the hope that their whakaaro will inspire others to do the same.
Special Guests will be announced soon! Stay tuned!