Inclusive Aotearoa Collective Tāhono – UPDATE #30
Kon'nichiwa
In honour of the 2020 Tokyo Olympics that just wrapped up last week, kon'nichiwa, and welcome to our new look newsletter!
We've had a busy month as we continue to progress our mahi, organising and facilitating more hui around Aotearoa, and preparing for our National Hui later this year.
Our most recent hui took place in Wellington on Tuesday 6 July, at the whare of the Te Kohanga Reo National Trust – a wonderful space for the event. The conversations were as rich and beautiful as the venue. We hosted two sessions, both on Te Toto Kei Roto – a Treaty that resonates with all Kiwis. Thank you to all who attended and participated.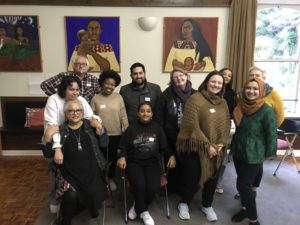 We also welcomed two new members to our team in the last month – Project Facilitator, Brian Ruawai-Hamilton and Communications Coordinator, Anusha Bhana. We'll be introducing them to you on our website and social media soon!
Keep scrolling for all the latest events, news, opportunities and updates.
Ngā mihi nui, The IACT team
---
Upcoming Hui
In the coming weeks our facilitators will be hosting Hui in the following areas. Please get in touch with us if you are interested in participating in a hui in your region.
Christchurch: 27th August – Media as Allies
Auckland: 16th September – Having the Important Conversations
We are also looking for community organisations/individuals who are interested in co-hosting hui – feel free to get in touch with us to see how we can work together.
Keep an eye on our Events page on our website for regular event updates and learn more about our three areas of focus.
---
Opportunities
Job Vacancy: Christchurch Call Network Coordinator
This exciting inaugural position for the CCA Network will help us ensure that civil society has the tools needed to actively participate in and influence the work of the Christchurch Call. Learn more…
InternetNZ needs your views!
Internet NZ are calling for participation in research about Digital Identity, in particular the design of systems that people will use to prove their identification digitally, rather than with physical ID's like passports. The team want to hear from people who have not been included in this process so far, for instance those more likely to experience digital or social exclusion. Participate now…
Nominations open for Kiwibank New Zealander of the Year 2022
Play your part in honouring the remarkable New Zealanders from all walks of life, whether it's the pillar of your community, the nation's game changers or the environmental warriors. These are the individuals or rōpū (groups) that make us proud to be Kiwi. Nominate now…
---
IACT in Action
Festival for the Future 2021
Our Project Co-Lead Anjum delivered two presentations at the Festival for the Future event, the two-day summit that took place from the evening of 30 July to 1 August in Wellington.
She contributed to a panel discussion 'How a focus on diversity and inclusion is critical for our most vulnerable communities', and gave a Keynote address on the theme of 'Courageous leadership in the face of adversity'. The full videos of each presentation will be available soon on our website, stay tuned!
Submission to Counter-Terrorism Legislation Bill
Anjum also presented a submission at the Counter-Terrorism Legislation Bill Select Committee hearing, which took place on 5 August 2021.
Watch Anjum's presentation – timecode: 31:04 – 47:22.
GIFCT Global Summit 2021
Anjum represented IACT at the Global Internet Forum to Counter Terrorism (GIFCT) Global Summit that took place online from July 26 – July 28. The GIFCT is an NGO designed to prevent terrorists and violent extremists from exploiting digital platforms.
Anjum's presentation emphasised the importance of considering a range of human rights when removing content online, and was included in Session Two: Human Rights Assessment. Watch Anjum's presentation – timecode: 28:42 – 39:26.
Have your say! Submission to Social Cohesion Public Consultation
The Ministry of Social Development is seeking feedback from the public on a new social cohesion proposal.
We have recently written our submission, and would like to hear your feedback on this. Read our submission, and then email us with your feedback if you have any.
As well as giving feedback on our submission, we encourage you to make your own submission. Submissions close Friday 10 September 2021.
---
In the News
Shame, secrecy and medical distrust: What it's like to be intersex in Aotearoa
"Jelly O'Shea from Intersex Trust Aotearoa New Zealand (ITANZ) Intersex Aotearoa, says there's a lot of "shame and secrecy" around being intersex in New Zealand, which isn't helped by the medical community. Read more…
'Groundbreaking' migrant pōwhiri in Tauranga may become national permanent fixture
"The pōwhiri was acknowledging that migrants were welcomed as "part of the land" and acknowledged migrants' position to give back to society. Read more…
Proposed conversion therapy ban in Aotearoa
There has been a fair amount of news coverage in the last week around the proposed ban of conversion therapy in Aotearoa New Zealand.
Read more about why conversion therapy is considered a harmful practice.
---
You can take a lead
A more inclusive Aotearoa New Zealand needs collective leadership and action. We invite you and your community to connect with us and others working for an inclusive society via the options below: